Export of cereals is very capacious topic. Most often, speaking of Ukrainian exports, raise logistics issues when transporting grain to the port or jumps in world prices. However, "export" begins much earlier, and from those moments about which most do not even think. For example, that a trivial forest belt can play a cruel joke and "hack" a contract for the sale of cereals. Or that investments in modern technologies during cultivation are directly proportional to profits when selling grain.
About export, in a wider understanding of this process, Elevatorist.com talked with the president of the Ukrainian Grain Association, the director of New World Grain Ukraine (Soufflet Group) Nikolay Gorbachov. Sales markets, grain quality, reasons for notifications, grain infrastructure, and logistics are the topics that we touched upon in the conversation.
ABOUT UKRAINIAN GRAIN SALES MARKET
Elevatorist.com: Nikolay, what does the market for Ukrainian grain look like and how much has it changed this year?
Nikolay Gorbachov: The market for Ukrainian grain is quite stable. About 30% of our exports go to Europe, where half a billion people live. Basically in Europe our grain is used for the production of mixed fodders. A very small part of it goes to the production of bread.
If you take the second largest market for consumption of Ukrainian grain, I would call the countries of North Africa. First of all, of course, this is Egypt, which buys our wheat and corn. Well, in the third category of countries, where about 30% also go, the Asian countries are included. This is India and Indonesia.
Elevatorist.com: Why does our grain go to Europe for feed? Does this indicate its low quality?
Nikolay Gorbachov: Europe produces a lot of its food grain. But forage they cheaper to buy from us. Ukrainian fodder grain has lower prices compared to European grains of the same quality.
In turn, Asian and North African countries import food grains from Ukraine and produce bread from it.
International trade depends on the culture of consumption and kitchen of each country. In different countries, they eat different breads, respectively, and each country has its own requirements for the quality of imported wheat. Moreover, in the territory of one country there may be different requirements for different millers. Some will produce pizza, and other social bread, respectively, they need a different quality of wheat.
Elevatorist.com: How is the choice of importing countries and distribution of the export market been made?
Nikolay Gorbachov: Everything begins with an analysis of the world market. Traders predict how much grain will be produced in each country, and calculate how much each country uses for domestic consumption. From this ratio, the volume of world trade is deduced. Such calculations are very well produced by USDA – the US Department of Agriculture. In addition, each trading company also makes its own forecasts.
As a result, there is a clear understanding from what countries can potentially go grain. It depends on the geographical location of these countries, on oil prices. Oil prices greatly affect the freight of ships. If they are high, then the markets need to be found somewhere closer. If low – then the markets are available almost everywhere, because the freight difference will be insignificant.
For example, in Asia, for us, the biggest competitor for wheat is Australia. They are much closer to go on the ship to Indonesia or to India. Therefore, we have the only lever to get our customer's loyalty – this is the price.
Elevatorist.com: How can we offer a lower price?
Nikolay Gorbachov: In Ukraine, the cost of producing one ton of grain is lower than in other countries, since the use of new technologies in the agricultural sector is at a lower level. At the moment, we can say that the two countries in the Black Sea basin produce the cheapest grain – Ukraine and Russia.
Elevatorist.com: It turns out that the underdevelopment of technology is "on hand" for export?
Nikolay Gorbachov: The fact is that we are currently growing half as much harvest as we could by applying new technologies. So, for example, our average yield for wheat is 4 t/ha, against 8 t/ha in Europe. In corn, our yield this year is 5.5 t/ha, last year there were 6 t/ha. If you take the example of the United States, then there is 11 t/ha. And if you take the state of Iowa, which is completely similar to Ukraine, both in terms of climate and soil and geographic location, they grow an average of 12 tons per hectare, and there are farms that grow 18-20 tons per hectare.
The use of technology will necessarily lead to increased production and increased profitability. Do not be afraid of this. One day an old grandfather said: "Do not be afraid of big expenses, you need to be afraid of small incomes". So the concentration of agricultural producers on small expenses, leads to the fact that they receive small incomes.
ABOUT GRAIN QUALITY AND IMPORTERS NOTIFICATIONS
Elevatorist.com: A large number of notifications when exporting our grain is also due to the fact that farmers do not invest much in technology?
Nikolay Gorbachov: Of course, we can draw such a parallel, but the notifications are connected with other problems. Our main buyer countries are located in other climatic zones. And there are not common diseases that are inherent in our plants. For us, no problem of any of the fungi, because during the winter period at negative temperatures they do not develop. If these fungi enter the soil in the countries of the Asian region, where there are no negative temperatures so these diseases will lead to a loss of acreage due to erosion or contamination of some plants. In the Asian countries, there is no experience how to deal with this. Therefore, there are notifications.
As for the problems with quarantine weeds, in particular, with ambrosia, it seems to me that here the state should assume a regulatory role and introduce a mechanism for protecting the fields from this weed. At the moment, even if farmers or agroholdings want to restore order in their fields, the forest belts that separate these fields and where quarantine plants are rampant are not their area of responsibility. For the forest belts the state is responsible, and at the current stage of decentralization, it is not clear from which budget – general or local – to take money for the eradication of the problem.
UGA together with IFC today in three areas launched a pilot project to combat quarantine weeds. Our working group met with the local authorities of these regions to discuss which budgets will be able to undertake certain tasks. Having written down all the expenses, it will be possible to understand how much everything will cost.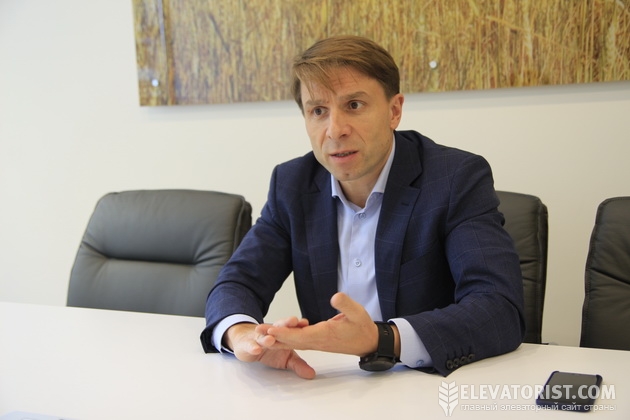 Elevatorist.com: In 2018, the Chinese are going to come and inspect the areas where the grain is grown, which goes to them for export. What do they want to see?
Nikolay Gorbachov: An agreement has been signed with China, which assumes full transparency of the chain of imported grain. Any Ukrainian company that wants to export to China must provide information about the fields where grain was grown; about the elevator, where it was stored and about the port in which it is reloaded.
There are no such treaties with any other country. These are rather difficult conditions. Grain from the inspected fields on elevators should be stored in separate containers, as well as at port terminals. As you know, in ports grain is stored impersonal, renting a separate container is more expensive. Hence, quite an expensive logistics chain.
I think that such an agreement will exist for a while, but we would like to see liberalization in this respect come as soon as possible. But before any liberalization, we need to understand for ourselves how we will deal with the existing problems.
Elevatorist.com: There are notifications associated with the fumigation method. Is it also ambiguous here?
Nikolay Gorbachov: Fumigation from the French fumée – smoke. Smoke kill pests on ships. The effectiveness of fumigation is highly dependent on the design and scope of the marine vessel. If the vessel is small, 2-3 ths. tons, the gas passes very well, even at the very bottom of the ship, and all the grain fumigant.
But on a ship with a hold height of more than 12 m, it is more difficult to do. Therefore, special recycling systems are put in place, which allows etching the entire volume of grain in the hold. But here there is a problem, which pipes to use for recycling? If the pipes are soft, they are compressed under a pressure of grain, and gas does not pass.
I believe that the state should regulate exactly which system should be used to recycle the gas during fumigation. Then the number of notifications for live quarantine facilities will be zero.
Elevatorist.com: Is there a non-tariff regulation with notifications?
Nikolay Gorbachov: Of course.
Elevatorist.com: How much percentage of just and unjust notification?
Nikolay Gorbachov: I can not say. It is subjective.
Elevatorist.com: As a trader, have you experienced this in your practice?
Nikolay Gorbachov: Fortunately not. But as the President of Ukrainian Grain Association, communicating with our phytosanitary service, of course, I know that some countries do use the notification as the adjustment of non-tariff barriers.
For example, India has demanded from us to fumigate grain – methyl bromide special gas, which is banned in Europe and Ukraine. We are fuming with another gas, the same as Europe – with phosphide, and it is quite effective. But India, being a producer of methyl bromide, wants everyone to buy it.
In addition, they apply the suffrage – one country to allow for another two months fumigation with phosphide, another country should already be banned, but this country is still prolonged. It turned out that they have identified four different countries different terms of application phosphide. In France, this resolution was completed in September, in Canada in November, and the US in December.
In another country, for example, Vietnam, two years ago, because of two counterfeit phytosanitary certificates for two barley containers – it's 50 tons – we were banned from exporting to this country. Although not at all the fact that the grain was Ukrainian. In addition, Vietnam also requires fumigation with methyl bromide, while for some reason the US made an exception.
Elevatorist.com: It's a political game?
Nikolay Gorbachov: I think that the relations between the two countries are very similar to the relationship between companies and people. If someone is more dependent on someone, then he is inferior to him. There are countries that depend on the United States, so they allow the United States more. We are not being such an influential country in the geopolitical scale, and we can not have this pressure.
Elevatorist.com: If we go back to our conversation about the competing countries. You said that in the Black Sea region, the lowest cost of production of grain from Ukraine and Russia. As far as Russia a serious competitor in the export plan for us?
Nikolay Gorbachov: In Russia, until recently, existed agricultural business as a hobby. They no one was seriously engaged. In recent years, we began to invest in agricultural production. We are on the same level in the technologies of growing grain.
But at the moment in Russian wheat production, which is exported, it is concentrated in the southern region – this is the Krasnodar and Stavropol region. There's the amount of vegetative temperature is approximately the same as we have, for example, in the Odessa region. Therefore, they have a slightly higher protein in this region. We have years when the sun bakes and also high protein, but, as a rule, in the western and northern regions, the quality of wheat is always a little worse than in the southern ones if we use the same production technologies. Therefore, Russia will always be our rival.
While they have exactly the same problem – low yield. When applying technology, they will receive a high yield. They are our neighbors, is in the basin of the same Black Sea, the freight of ships is the same, that from Novorossiysk, that from Odessa. Therefore, we will compete in practically the same markets.
ABOUT GRAIN INFRASTRUCTURE
Elevatorist.com: Let's talk about the grain infrastructure. How much does a trader need elevators? Can he manage without his granaries?
Nikolay Gorbachov: Of course it can be. Who is a trader? A trader is a businessman who fills the market with liquidity. Traders can be large, small, foreign, local – it does not matter. They create a market for agricultural producers. They have a choice who sell the goods. The more traders, the more choices.
In Ukraine, compared to other countries, there are a lot of trader companies. In France, for example, the top 20 exporters include exactly 20 French companies, of which 19 are cooperatives. In Ukraine, a very large choice of grain traders. A farmer, an agricultural producer, can store grain both in his own household and at the elevator. Imagine, we still have a system in which a farmer does not own an elevator, but he has the ability to store grain there! There is no such thing anywhere else.
Elevatorist.com: What is the system of interaction with elevators abroad?
Nikolay Gorbachov: The elevator belongs to either a cooperative or a private company, and if you bring the grain to the elevator, then you sold it. While you keep it, it belongs to you. At our agricultural producer can sell at itself in an economy, on an elevator, can take to port.  If he wants, can immerse it in a ship, no one limits him. At each of these stages, he will meet several companies who will be able to buy grain from him.
If you take the experience of other countries, Europe and the United States, it does not happen in this way. There in the radius of 100 km built one elevator,  if you want to carry on that carry for 200 km. Infrastructural Ukraine is built in such way that the agricultural producer can find 2-3 elevators within a radius of 30 km and it is very easy to choose whom he will sell this grain to.
Elevatorist.com: This is not an overabundance of elevators?
Nikolay Gorbachov: No, I do not. We have the majority of elevators old-remnants of the Soviet times. It was built in order to collect and store grain, and then process it for flour. The USSR was the importer of grain from which we got the infrastructure. We have huge elevators in Western Ukraine, which are in the forest. It turns out the grain was imported from other regions, and then it was redistributed among the mills in Western Ukraine.
At the moment, we grow more than 80 million tons of grains and oilseeds, of which 47 million we export, that is, more than half. If we speak about wheat, we grow 24-26 million tons, of which 17 million tons are exported annually. On domestic consumption about 5 million tons. Such a massive export orientation makes it necessary to revise existing standards on storage methods, methods for determining grain quality, on instruments for grain analysis, and so on. Everything must be brought to world standards.
ABOUT GRAIN LOGISTICS
Elevatorist.com: Except for standards, grain logistics should also be revised. Why did have this problem with it?
Nikolay Gorbachov: As for the logistics, I can say that we, as a country, remind the worker at a factory that was given an apartment in the center of Kiev and a Bentley, but the money that he earns is not enough even to fuel this car.
We have an excellent infrastructure for you. There are roads, there is a railway channel, there are bridges over the rivers and ports. There are berths in the ports. Can you imagine how to build all this? I was in Paraguay and I can say that there is not one kilometer of the railway,  only one standard road across the country. All the rest are dirt roads, which are heated by a grader every two weeks. After returning from such countries to Ukraine, I can say for sure that we live like in Switzerland.
Elevatorist.com: Why is the situation with grain logistics more complicated every year?
Nikolay Gorbachov: The problem is deeper. The oligarchization of the economy led to the fact that only those industries in which influential economic and political businesses were interested developed. The agricultural business was not one of them. Nobody paid attention to the infrastructure of the grain business. All the investments that have been invested in the grain infrastructure over the past 20 years are mainly funds of the trader companies who built themselves the missing port terminals and elevators. They hoped that the state would nevertheless take care of the infrastructure connecting the domestic and foreign markets, but that did not happen. In addition, we received managers who at the state level do not understand cross-sectoral problems.
The Ministry of Infrastructure announced that they want all of us to travel along good European roads. This is a great decision, but why not ask the Ministry of Agrarian Policy, how much and in which way do they need to deliver grain to ports annually? Then the mathematics would be formed clearly.
One could come to an understanding that in order to prohibit cargo vehicles with overloads, it is necessary to finish building 5,000 railway wagons and buy locomotives. This will take 1.5-2 years, and after that, you can enter new rules for transportation by road. Thus, the infrastructure, without cracking, would withstand any political changes. But it happened completely wrong, as in a fable about Swan, Cancer, and Pike.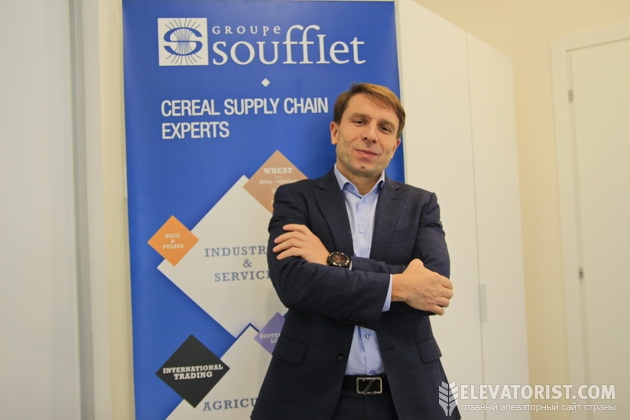 ABOUT THE COMPANY  SOUFFLET
Elevatorist.com: What are the prospects for the development of the Suffle company in Ukraine?
Nikolay Gorbachov: Soufflet in Ukraine has three elevators, a malt factory, we annually invest in exports. We want to build, we want to buy elevators, we want to expand. Our company works with more than 950 manufacturers. We have 8 agronomists who travel and serve the farms which we work with, give them recommendations using international experience. We train these agronomists in France. French agronomists also come here for consultations. The structure of Souffle's business lies in the cooperation with the agricultural producer.
The founder of the company, Mr. Soufflet, was often asked why the company, positioning itself as such an expert, does not grow anything. He replied, "The agricultural producer is my partner. If I start growing, I will be a competitor for him, and there will come a conflict of interests, which I do not want to happen."
We satisfy all requests of the agricultural producer. If he wants to sell grain then we will buy it. If he wants to store at the elevator then we will store it. If he wants to buy a plant protection product or seeds then we will deliver it. If he wants to get advice then we will give it. I do not know of such company that would deal with both trade and business in Ukraine.
 I would not point out the Soufflet company as a grain trader. We have a group of companies in the structure, which has 12 lines of business. Trade is one of the directions.
 We invest in elevators, we increase their capacity for storage and for loading. We bought one of the elevators in the Khmelnytsky region, which could load two cars per day 10 years ago. At the moment we have commissioned a line that loads 54 cars – a route. We put a new dryer there, gas, and also installed additional storage tanks.
The western region is increasingly focused on the production of grain. If earlier only trees and mushrooms were grown there, then today they start to grow a grain. Therefore, there is a request from the market to increase the elevator capacity. We work with absolutely different agricultural producers, with those who have 100 hectares, and those with 50 thousand hectares.
ON THE RESULTS OF THE YEAR
Elevatorist.com: If you summarize the subtotals at the end of a calendar year, how can you describe the past year in terms of exports?
Nikolay Gorbachov: The season was quite good. The only thing that spoils it badly is innovations in infrastructure. These are technical and political changes in infrastructure management, changing the structure of the distribution of wagons, political instability within ministries. Firstly they separate the "Ukrzaliznytsya", then they do not separate…
If you drop the infrastructure component, everything would be fine, because, finally, the biggest problem is that the VAT refund has already been solved. But again, we can face the whole complex of problems in the grain market, both with financial and infrastructure instability, in the new year.
We are in a state of complete unpredictability. The more predictability in business, the more investment will come, and the better will be the development of agricultural production, export, and processing. It is necessary to be engaged in the processing in order to receive additional value. But in order to build plants here, you need to bring investment here. To bring investment, you need to understand the period of their payback. How can you calculate the payback period in a country with an unstable economic and political situation? No way.
It remains to hope that everything will stabilize. We will make efforts to solve the arising problems.
Elevatorist.com: Thank you for the informative conversation, Nikolay!
Written by Inna Vorobiova, Elevatorist.com